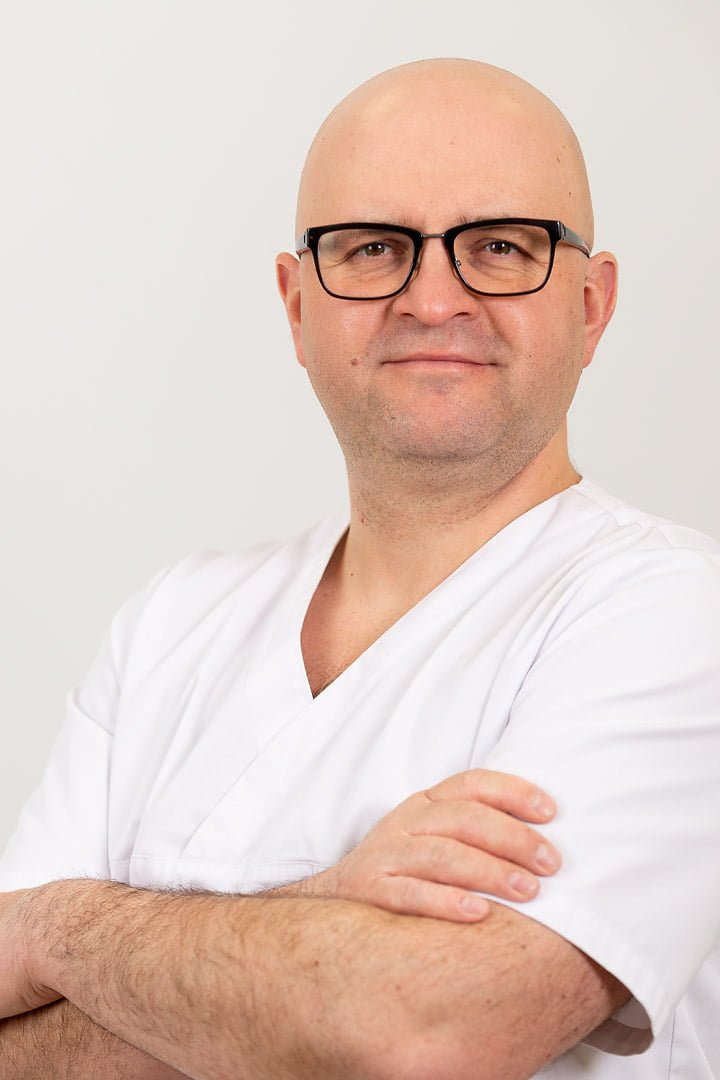 General and vascular surgery specialist, proctologist
---
Wroclaw Medical University graduate. General surgery, vascular surgery and proctology specialist. On a daily basis he works in the General and Vascular Surgery department in the Provincial General Hospital in Wrocław, located at ul. Kamieńskiego He gained experience during multiple international residencies and training courses. He completed:
- ultrasound training in advanced diagnosis of blood vessels, vascular access fistulas and kidney transplantation,
- residency in the Department of Surgery in Taipei Medical University in Chinese Taipei
- training in implantation of human acellular vessel grafts for prosthetic vascular access in Durham (NC) in the US.
- course in open and laparoscopic techniques in gastroenterological surgery ACG in Davos, Switzerland,
- course in Endovenous laser treatment for varicose vein of lower limbs (EVLT) in Jena, Germany
- course in advanced vascular dialysis access techniques in University Hospital, in Patras, Greece
- postgraduate course in Applied coloproctology in the Jagiellonian University Medical Centre of Postgraduate Education
- training in minimal invasive proctology (laser treatment of haemorrhoids, pilonidal cysts and anal fistulas) in Witten , Germany.
In his everyday clinical practice he works with ultrasound diagnosis and varicose veins treatment (minimally-invasive laser procedures and sclerotherapy), treatment of atherosclerosis of lower limbs and carotid arteries, treatment of aneurysms, creating AV (vascular access) fistulas, treatment of haemorrhoids (piles), anorectal (anal) abscess, anal fissures and pilonidal cyst (minimally-invasive laser treatment).
He co-wrote research papers on vascular surgery, published in national and foreign journals, including renowned The Lancet -> link
He was awarded the Surgeon of the Year award in the 2018 Hippocrates Award.